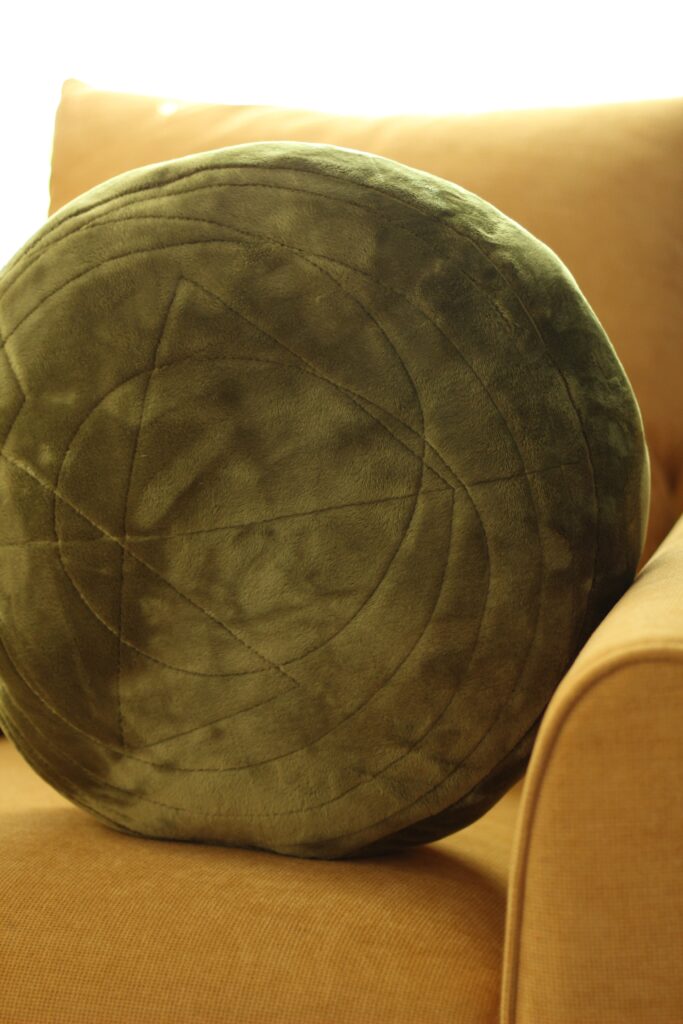 Pattern Measurements & Materials
(2) 15″ diameter minky fabric circles
(1) 15″ Pellon Naked Foam circle
(1) 5″ x 51″ continuous cut of minky fabric
(1) Bag of Poly-fil Premium Polyester Fiber Fill
(I suggest you overstuff for the best support!)
Instructions:
Serge or zigzag stitch all minky edges to reduce shedding.
Back 1 minky circle with naked flex foam and stitch around perimeter to secure foam to minky. Quilt as desired.
Hem each short end of the 5″ side panel by folding the fabric over 1″.
Position the 5″ side panel right sides facing along the perimeter of the quilted foam minky circle. Pin well and overlap the ends to create a "pillow case opening" which will be used to turn and stuff. Stitch around to secure the side panel to the foam minky circle.
Pin the remaining circle to the opposite edge of the 5″ side panel right sides facing. Stitch around the perimeter.
Turn cover around carefully through the overlapping opening in the side panel.
Stuff, stuff, stuff…knead, knead, knead…stuff, stuff, stuff… E N J O Y!
Maker notes:
Option to hand stitch the opening closed. I did not and the contents are secure as a result of the overstuffing.
Suggested seam allowance 3/8″ or 5/8″ (just be consistent).
Approximate finished measurements 14″ diameter by 5″ deep.
Please share pictures of your Sewspire Overstuffed Tuffets on Facebook and Instagram using #sewspire #fairfield80, #polyfil, #poly-fil, #FFWcelebration
Many thanks to Laura and Fairfield World for coordinating this fun filled 80 days of Poly-fil showcase!
~ Andrea ~