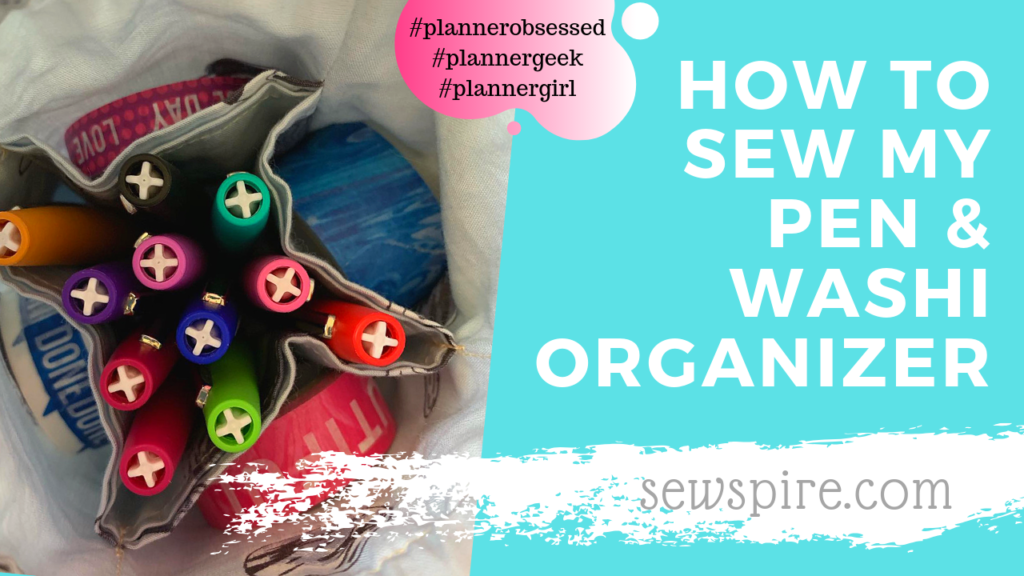 Hey y'all and welcome to the Sewspire Sewing Inspiration Channel! My name is Andrea and today I am here to show you how to sew the pen and washi tape organizer I recently designed for myself.
For this project you will need 1/2 yard of cotton fabric and an 11″ x 8.25″ and 4.25″ x 4.25″ piece of Pellon 808/809 or quilt batting for the exterior panels .
To begin, precut and press the follow fabric pieces:
(2) 11″ x 8.25″ Body Panels
(2) 4.25″ x 4.25″ Base Panels
(1) 11″ x 10″ Pocket Panel
(1) 2″ x 22″ Drawstring
The finished piece measures 7″ tall by 3″ in diameter with 6″ of usable interior height. If you have longer pens increase the height of your body panels accordingly.
I hope that you are feeling inspired to sew something today and that you enjoyed this sewing tutorial. I would love it if you would share photos with me of your creation(s) on Instagram and Facebook using #sewspire and @sewspire.
If you enjoyed this video tutorial please give it a thumbs up and subscribe to the Sewspire You Tube channel! I strive to produce 4 new sewing tutorials per month and it is my personal mission to bring the joy of sewing to as many people as possible. If you would like to join me on this quest, please consider becoming a Sewspire Patron:
https://www.patreon.com/Sewspire
If you haven't done so already you are also invited to join our Sewspire Closed Group Facebook Page:
https://www.facebook.com/groups/183488042371692/
If you are looking for my PDF Sewing Tutorials you'll find those in my Watermelon Wishes Etsy shop at a new ultra low price of $2.99 each:
https://www.etsy.com/shop/WatermelonWishes?ref=l2-shopheader-name&section_id=25489946
I will be back soon with another inspired sewing project. Until then…please know the creative genius in me will be celebrating the creative genius in you!
Creatively yours,
Andrea
#sewing #sewspire #washitape #plannerlife #sewingtutorial #penorganizer