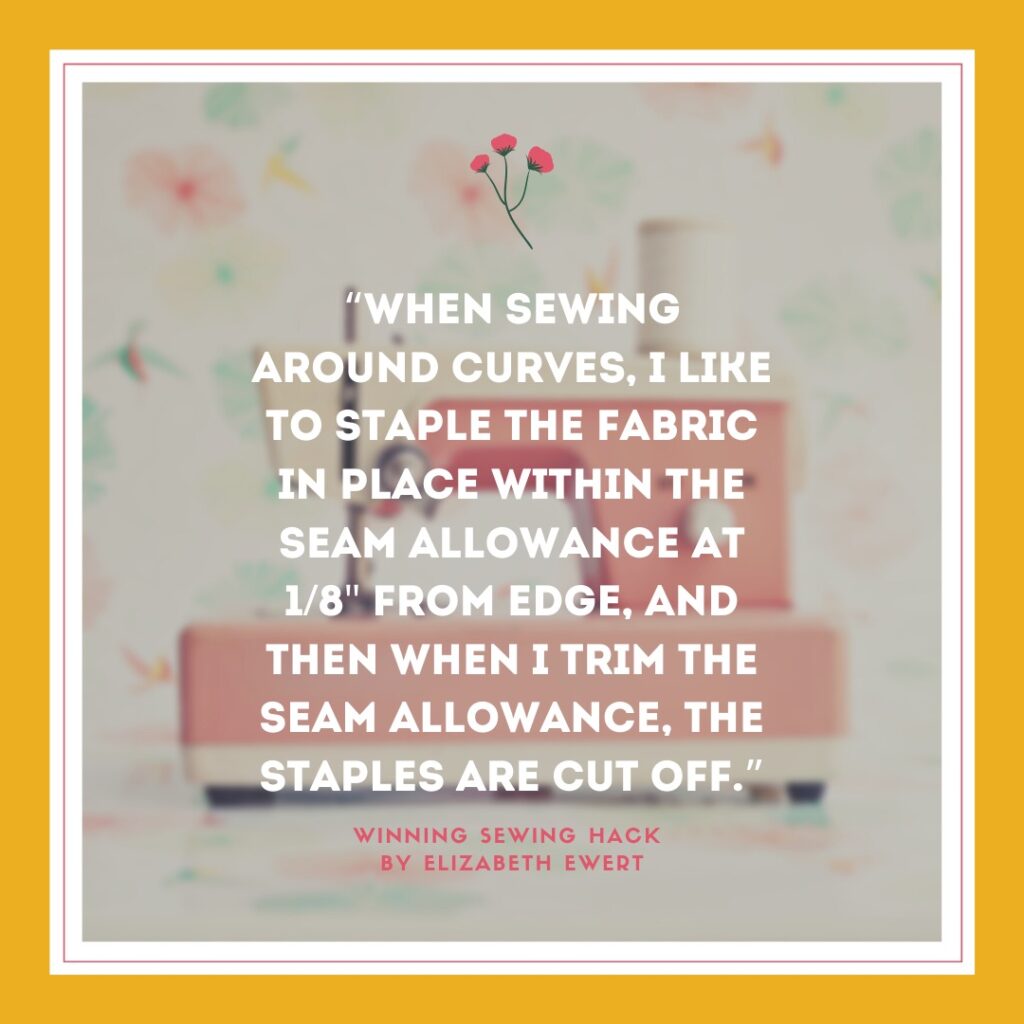 Hey y'all and welcome to Behind the Seams with Andrea! In celebration of my 49th Birthday on February 1st I asked the members of our Sewspire Facebook Group to submit their best sewing hacks. In exchange, I promised to give away a flat rate envelope of fabric if we got a minimum of 49 unique hacks. Below you will find 60+ Sewing Hacks generated by the group. I have consolidated the duplicates and as such didn't attribute the hacks to any one person with the exception of our winner. If you are curious who made the suggestion or would like to read the list in real time, please do join our group page:
https://www.facebook.com/groups/Sewspire/
And, now, without further ado, I would like to congratulate Elizabeth Ewart who suggested a really unique hack that would have never occurred to me!
"When sewing around curves, I like to staple the fabric in place within the seam allowance at 1/8″ from edge, and then when I trim the seam allowance, they are cut off. Helps prevent the fabrics from slipping."

Winning sewing hack by Elizabeth Ewart
Many thanks to everyone who contributed! I hope you enjoy the compilation and will test a few out and let us know your favorites.
60+ Sewspire Community Sewing Hacks for 2020 and beyond
Use wax paper to trace your pattern and then iron it onto your fabric for precise cutting.
Iron wax paper to your ironing board cover to prevent scorching.
Toe spreaders, for polishing nails, are perfect for holding bobbins.
A reusable plastic drink mug with straw removed can double as a cone thread dispenser.
Lubricate dull straight pins by pushing them into a bar of soap.
Normal felt can be used as an inexpensive substitute for interfacing.
Magnetic screw trays are perfect for holding pins and clips.
A weight at the end of the ruler keeps it from moving when cutting larger pieces of material.
Drape simple fabric pockets over acrylic standing frames to create tool organizers.
A washable glue stick can be used to hold little pieces of fabric in place.
A wet left index finger placed behind the needle will pull the thread in the right hand through the needle eye like a magnet.
Eyebrow trimmers, sold in a three pack at Walmart, double as seam rippers.
Kids hair bands can be wrapped around thread to store neatly.
Cut threads with ease using Thread Zap by Beadsmith.
Blue painters tape is a sewing room must have and can be used to mark seam allowances and secure thread while in storage.
Empty Tic Tac or medicine bottles are ideal for containing broken, bent and unusable needles.
Wrap thread ends around your index finger and roll the threads up and off with a gentle tug to knot the ends.
A Humper Jumper will allow your machine to pass over thick layers without missing a stitch and the little hole can hold the machine needle when inserting a new needle. You can make your own by folding paper to the height of the project and placing it under the backside of the foot.
Kids hair clips, found at Dollar Tree, make wonderful fabric clips.
Cuticle scissors are handy for snipping stray threads.
Measure twice, cut once.
Read the instructions or watch the video in its entirety before beginning.
Don't sew when you have no SewJo.
Roll binding onto a wrapping paper or toilet paper roll and place on a free standing toilet paper stand to unwind as you bind.
A little square of Chor Matt is perfect for collecting snipped threads while working.
Likewise, a lint roller makes for fast thread clean up.
A telescoping magnet can be used to pick up dropped pins from the floor.
Hair ties can be fashioned into loops for buttons on small projects like business card holders.
Divided cases, found in the fishing isle, are ideal for storing bobbins and like size objects.
A skewer stick can be used to poke out corners.
Quarter inch zipper tape can be used for more than just zippers.
Small clear plastic zip top bags, found in the jewelry section of the craft store, are convenient for creating thread and bobbin sets.
Utensil crocks are perfect for organizing zippers in the package and fat quarter rolls.
The oil from your face / bridge of the nose works better than saliva to thread a needle.
A turn table basket can be used to organize your sewing station.
Consider stapling your fabric 1/8" from the edge and then trimming away the staples after you have sewn.
Large pill bottles can be repurposed into button sorters.
Hairspray can be used to keep the edges of cut fabric pieces from fraying.
Long golf tees double as bobbin and thread holders.
Use packing tape to attach a measure tape to your cutting table.
Recycle oval shaped containers (ex: Crystal Light) to store clips, safety pins and grommets.
An empty half gallon milk container makes a nice sewing trash can. Consider sewing a pocket skirt to dress it up and hold smaller tools.
Use a strip of paper or envelope edge to sew a straight line when dividing pockets.
Create a quiet peaceful place to glean inspiration when facing a sewing challenge.
Pipe cleaners cut and tucked into coffee stirrers are perfect for brushing lint and debris from the machine (like a mini toilet brush).
Sew one part of hook and loop tape north and south and the other east and west to create room for expansion.
Tissue paper helps keep clear vinyl from sticking.
Use two spools of thread with one needle to create standout top stitching.
Place a sheet of flexible shelf liner under your machine and foot pedal to keep them from sliding.
Plastic auto parts boxes can be used to hold machine feet.
Use an air or water soluble fabric marker to draw the seam allowance on fabric and ensure even stitching.
Fork tongs can be used to create even pleats.
Double sided tape can be used to hold zippers in place when sewing.
Position the flat slide of the clip towards the exterior to prevent dents in cork or leather.
Check the tool section of your hardware store for sewing storage solutions.
Old bath towels can be used to back baby burp clothes and dish rags.
Scotch tape on the base of a wide machine foot will suffice in the absence of a teflon foot.
Recycled clothes can be repurposed into smaller cuts of fabric for practice projects.
A carpenters tape ruler can be cut to create snap closures on pouches.
The cardboard from fat quarters can be sued to create templates for boxed corners.
A dab of hairspray can also be used to make needle threading easier.
Use a self adherent wrap around large spools of thread.
I thank you for reading along with me each week and shall be looking forward to sharing another tutorial with you on Tuesday. Until then, you know, the creative genius in me will be celebrating the creative genius in you!
Lots of love,
Andrea