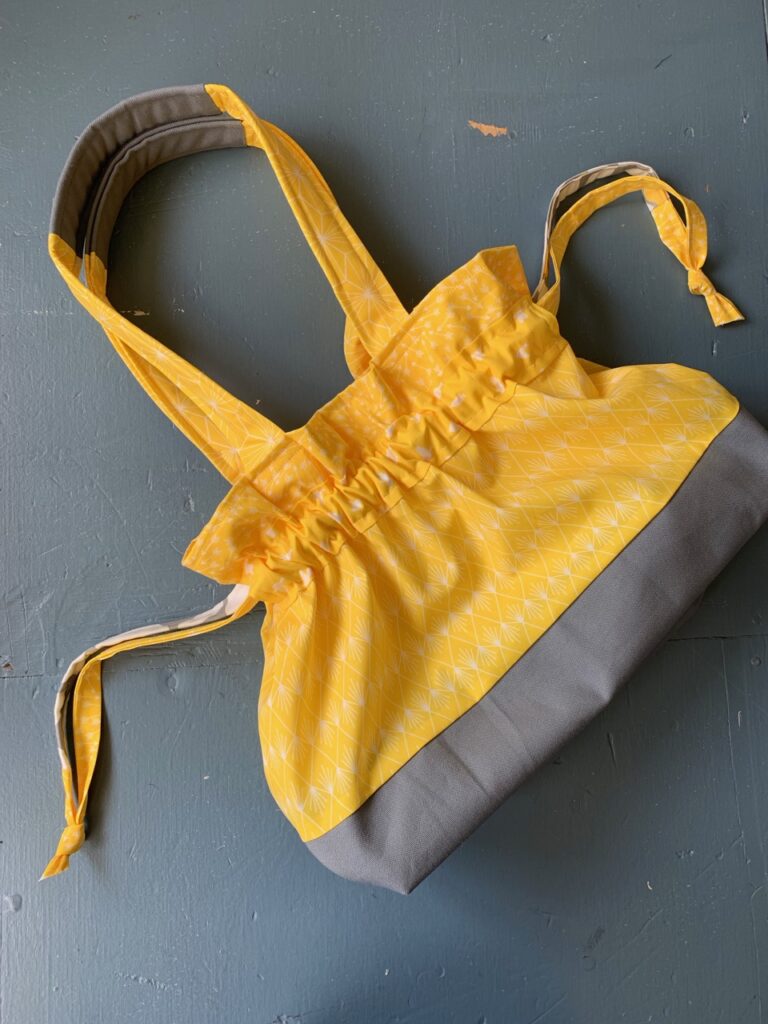 Hey y'all and welcome to the Sewspire Sewing Inspiration Channel! My name is Andrea and today I am here to show you how to sew what I am calling my "Sunny Days Ahead Tote".
This is a generously sized tote with two handles and a drawstring closure. It is ideal for summer living and would make a super cute pool or beach bag. Because it is lightweight it will fold fairly flat and can be tucked inside a larger bag while traveling. You'll notice I used a tone on tone styling for this bag and then grounded the sunshine yellow with a nice neutral grey twill. The twill accent at the top of the handle adds yet another design element to this beautiful and practical bag. Finished the bag measures: 23″ across the top, 15″ across the base, 12″ tall and 8″ deep.
For this project you will need to precut the following fabric panels:
Body Panel (2) 24″ x 34″
Gusset (2) 18″ x 4″
Drawstring (2) 3″ x 48″
Handle (2) 6″ x 27″
If you are interested in learning more about the first ever Sewspire Retreat which is in the early planning stages you can submit your contact info here:
As mentioned, I will be traveling the next few weeks…so our next tutorial will be released the week of June 24th; but, I will be sharing other fun bits of inspiration from my trip over on Instagram and Facebook if you would like to keep in touch that way using #sewspire and @sewspire.
Before you go, let's spread the joy…by liking the video and subscribing to the channel! These two simple actions will help me bring the power of creativity and sewing to as many people as possible.
If you haven't done so already you are also invited to join our Sewspire Closed Group Facebook Page:
https://www.facebook.com/groups/183488042371692/
If you are looking for my PDF Sewing Tutorials you'll find those in my Watermelon Wishes Etsy shop:
https://www.etsy.com/shop/WatermelonWishes?ref=l2-shopheader-name&section_id=25489946
And, last but not least, many thanks to our loyal Sewspire Patrons for their continued interest and support of my work and this channel (thank you, thank you, thank you!). To find out about more about the Sewspire Patreon Program and the exclusive Sewspire Patron Benefits please visit:
https://www.patreon.com/Sewspire
Creatively yours,
Andrea