Hey y'all and Happy Valentine's Day! I hope this message finds you showered in love and holding a heart full of gratitude. Just thinking of this community evokes both love and gratitude in my whole being.
I am so happy to announce that through a handful of generous Paypal donations and the ongoing Create. Tee sales we were able to raise enough money to upgrade the technology I use to edit and manage Sewspire!
After much research I went with the iPad Pro 11″ with 256 GB and the Apple Pencil (second generation). This combo will allow me to edit and archive our video tutorials plus host our live chats with clarity of connection and ease. In addition to expanding our opportunities to connect I am looking forward to delivering a new collection of PDF Tutorials with hand illustrations to you in 2020. Sew exciting!
A special thanks to the creative hearts listed below who specifically supported the technology fundraising efforts. Your generosity means more to me than you can imagine!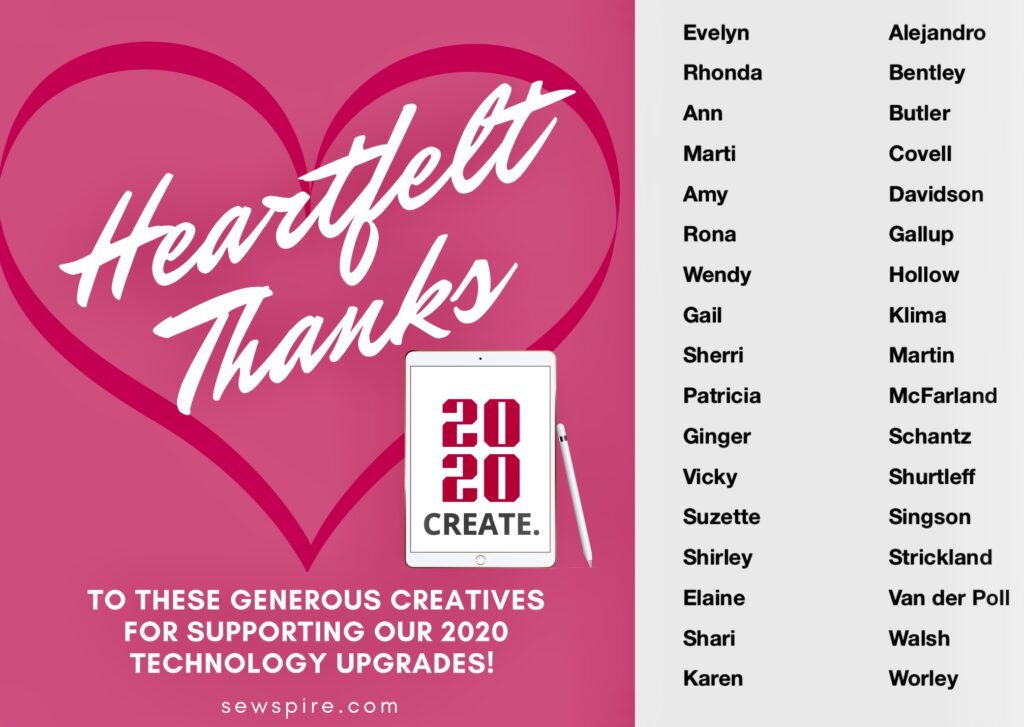 One of the things that I think we all "love" about sewing is the opportunity to work with many beautiful pieces of material. This particular print which I am currently designing a large camera bag set with has captured my heart and sparked something deep inside of me. The quote by Anais Nin, in particular, which reads: "And the day came when the risk it took to remain tight in a bud was more painful than the risk it to took to blossom."
On this day, which we have dedicated to love, the greatest gift you can give or receive is to embody the very best version of you. Bloom my sweet friend, bloom!
Sewing and designing, has been instrumental in developing my confidence and from your correspondence I know that to be true for many of you as well. With the new tools in hand, I am looking forward to continuing this symbiotic relationship we have collectively created and wish to thank you again for your continued interest and support of this platform, my designs and tutorials.
Until Tuesday at 12 p.m., the creative genius in me will be celebrating the creative genius in you!
Endless love and respect,
Andrea
P.S. If you too are inspired by the newsprint material you can find that here: https://www.fabric.com/buy/0433940/story-108-wide-quilt-back-news-print-black-and-white