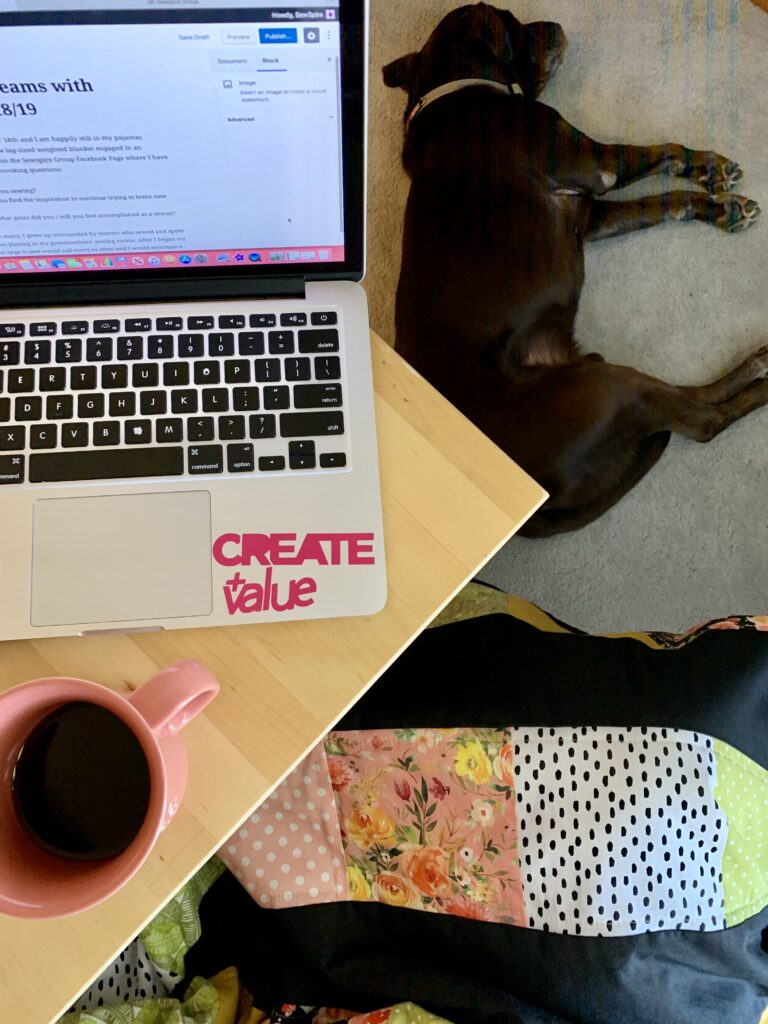 It's 10 a.m. Friday, October 18th. I am snuggled up with my new 6 lb. weighted blanket (the next tutorial in the Sewspire Handmade Holiday Series) writing to you. Moments ago I was fully engaged in an interesting conversion on the Sewspire Group Facebook Page where I have posed three thought provoking questions:
What keeps you sewing?
Where do you find the inspiration to continue trying to learn new skills?
And, at what point did you / will you feel accomplished as a sewist?
For me, like many, I grew up surrounded by women who sewed and spent many hours playing in my grandmothers' sewing rooms. After I began my family the urge to sew would call every so often and I would entertain it with a meager attempt. For the most part each project was an epic fail. Then, I had to find a way to support my family and my desire was met with absolute determination.
I needed a marketable skill fast and sewing was my best option.
Shortly after tossing out commercial patterns and learning how to free cut my own designs I discovered the joy and captivity of sewing. That coupled with my stubborn determination and I was soon unstoppable. Now, more than 13 years since I established my first sewing business in 2006, I am still madly in love with the craft.
Creativity has opened doors for me that I could have never imagined and I am so grateful to be able to do work I love and inspire others to do the same.
Follow your heart and everything else will fall into place.
Until I founded Sewspire, sewing was a means for me to earn additional income. Now, I see it as more of a tool to connect creative minds. It is the thing we have in common; but, it is not what binds us together. That is something much more powerful and difficult to describe with words.
I first experienced the unexplainable sensation during the launch of my master class (AMC) in which I shared my design methodology with a small group of women. As part of the course we convened once per week via live chat to discuss our designs and ask questions. Much to my delight, and I think to most in participation, we were able to connect emotionally during these virtual discussions.
It was fun, uplifting and left us all yearning for more.
When I set up the Patreon Page for Sewspire I knew that live chats would be an integral part of the platform. Once a month we come together as a group to discuss what we are making and share tips and tricks of the trade. I so look forward to the visit and always leave feeling inspired. To me, these women have become friends. I wouldn't want to assume the same is true for them; but, I think the smiles and continued enthusiasm are a good indication they are enjoying the experience.
If you too would like to partake in this virtual friendship circle there are a few upcoming opportunities to do so. The first of which is to become a Patron today and participate in our monthly Patron Live Chat scheduled for Friday, October 25th at 3 p.m. EST. There is one $5 seat and three $10 seats available at the moment: www.patreon.com/Sewspire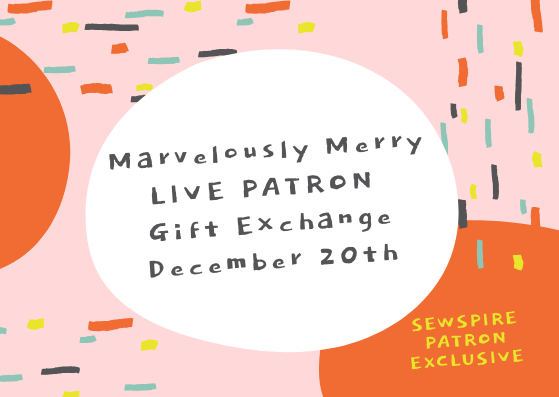 Why would I pay to have friends, you quip.
Well, if you go to lunch or coffee with a friend it costs you money. Same is true for the live chat. It costs money to subscribe to the platform in which the chats are hosted. It costs money to subscribe to the platform in which the graphics for the chat are created. It costs money to set up the giveaway and ship the prizes that are part of the interaction. It all costs money.
In exchange for your pledge you receive access to the monthly live chat, all of the PDF patterns I have published to date and access to my quarterly design master class (AMC). If you were a Patron for 1 year at $10 per month that would add up to $120 which breaks down to $5 per pattern and $5 per chat + a unique quarterly experience whereby you have the chance to design a really awesome bag over a 4 week period in a group setting. Also want to mention, there is no obligation. You can join right now for $5 and quit before the end of the month and still receive everything above for that time period. Most people don't give up their seat though. And, as added incentive, if you maintain your pledge through the end of the year you can participate in our Marvelously Merry Holiday Gift Exchange on December 20th.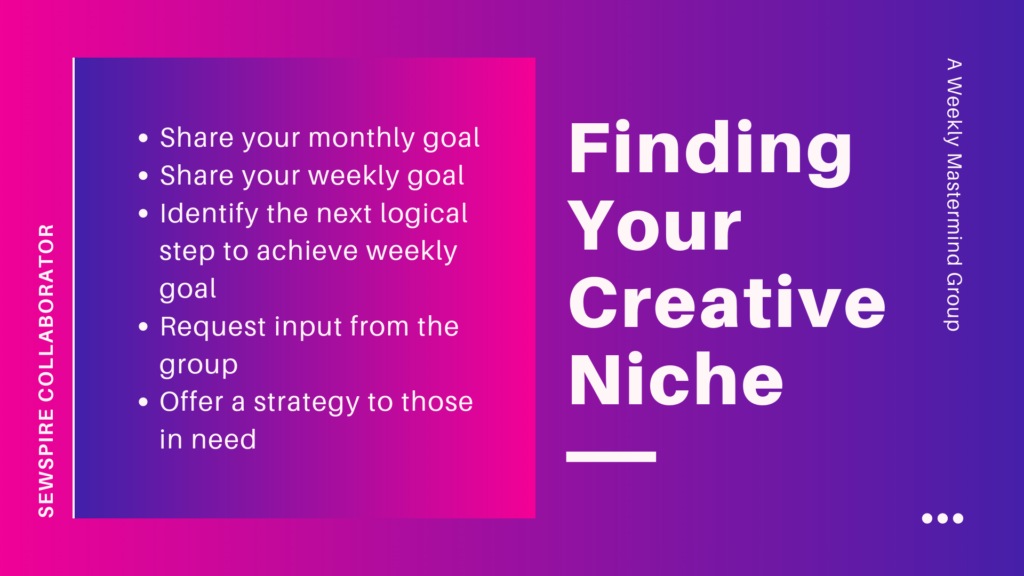 Another option, for those of you who want to be a part of something much bigger is to participate in the monthly mastermind group which recently launched. That obviously comes at a higher price tag ($100 per month) and is specifically geared for those who want to start or build a handmade business model. As part of this unique mastermind group we chat weekly (Monday evenings at 7 p.m. ET) and engage daily on a private facebook page. If you are interested in participating, please send me an email for more info: sewinginspiration@gmail.com or join the Patron Group at the Collaborator Tier.
And, then, the final option, which is completely free of charge and loaded with inspiration is for you to join our supremely supportive Sewspire Group Facebook Page and interact with our community by posting photos of your Sewspire creations and liking and commenting on others posts.
Whatever level you choose to engage with us please know that you are warmly embraced and appreciated.
Endless love and admiration,
❤️Andrea