IMPORTANT UPDATE: There was some confusion regarding the measurements of this piece. Kathy would like the finished bags to be less than 6″ deep. So the bag I have sketched below is TOO LARGE. It's more of the super sized "Home Goods" type of shopping bag. Kathy invites you to design your own bag, using materials you have on hand, for this project. And, if you should ever need a jumbo tote, you can use the measurements below to create a bag similar to this.
Hey y'all and welcome to my weekly blog post! Today I am here to share an important and meaningful opportunity to help our fellow creative friends in Australia.
Sewspire Patron, Kathy Bruss Tomei, recently returned from a 10 week holiday trip to Australia where she spent quite a bit of time with a local stitching and craft group. This group of women, Kathy shared, is currently sewing hand made quilts to donate to families and firefighters impacted by the ongoing bush fires that have "created unimaginable and widespread devastation."
"Many, many people have lost lives, homes and property and there has been devastating loss of wildlife", Kathy confirmed in a recent email exchange. In addition, she said, there are selfless firefighters that will be working round the clock for months on end to stop these fires. The host house where Kathy stayed is situated about 30 miles from some of these fires and she personally witnessed and smelled dense smoke on a daily basis and affirms it is unlike "anything we've ever experienced in the US."
The Bonegilla Hall Craft Group that she had the pleasure of sewing with is now making quilts to donate to those impacted by the fires and Kathy has come up with a cost efficient way we can help.
The request, is for each of us to sew a large reusable/washable fabric tote that measures approximately 18″ x 18″ when finished. The bag will originally be used as a quilt delivery bag and later repurposed into a shopping bag by the receiving family.
Our handcrafted bags will be sent to the Bonegilla group pictured above for filling and distribution. Kathy is willing to coordinate the shipping from her home state of Texas to Australia and is currently working on finding a donor to cover those shipping costs.
What she needs from anyone who is interested in helping is:
1. Commitment via email to complete 1 (or more) totes by February 28th, 2020.
2. Willingness to absorb the cost of postage required to mail your completed bag(s) to her Texas address.
If you are interested in participating in this joint venture, please contact Kathy directly for further instructions:
Kathy Bruss Tomei
sprouts51@gmail.com
I thank you for reading along, for helping Kathy and our creative friends in Australia and do hope you will share photos of your bag(s) with us on the Group Facebook Page!
A Sewspire Sewing Recipe for your sewing ease:

The cut body panel measurements (to achieve a 18″ x 18″ tote bag using the fat or notched corner method) would be 37″ wide by 29″ tall. You would need to cut 4 of these body panels with a 9″ square notched from the bottom right and lefthand corners of each. Your straps would likely measure 6″ x 30″ and be crafted using the typical Sewspire method of strap making. Kindly reinforce the handles for heavy loads.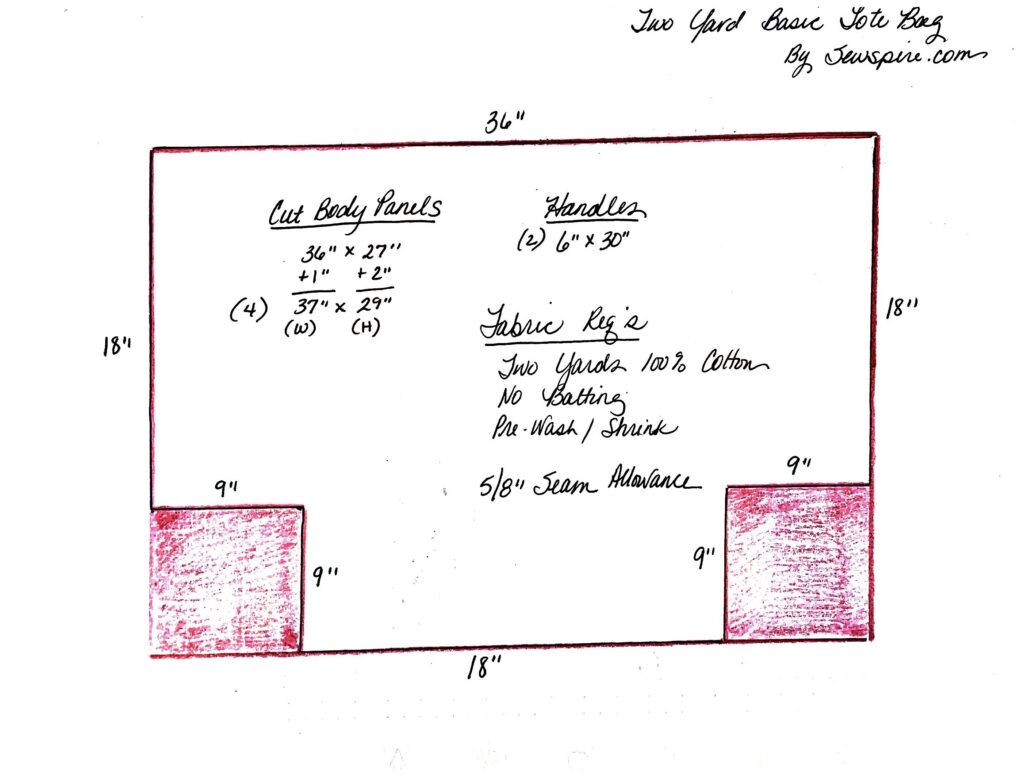 And, before I say goodbye for now, I want to offer up a special thank you to Kathy for proposing and organizing this opportunity for us to serve.
Until next time, you know, the creative genius in me will be celebrating the creative genius in you!
Endless love and respect,
Andrea